Bars in Seattle close at 2 AM (after midnight). Strict directions from the government have been made to bars to follow these time limits.
In Seattle, the nightlife is kept under certain restrictions. Although the city has no dearth of pubs and bars, they function for only a couple of hours post midnight. 
Tourists and residents in the city often like to unwind at the bars and pubs after a long day of tour and work. The city has an impressive collection of pubs which should add to its quality of nightlife.
However, there are some restrictions that dictate the closing hours of serving alcohol. In this article, we will discuss the various restrictions on the closing time of bars in Seattle and why they are in order.
When do bars close in Seattle?
In Seattle, bars and restaurants serving alcohol cannot be open after 2 AM in the morning. After the last call is made a little before 2, no alcohol can be served anywhere.
The Liquor Control Board has issued strict warnings to bars and pubs in Seattle to shut down operations after 2 AM. The order has been in effect for years and doesn't look like it will change in recent times.
While some places like New York and Chicago are allowed to have their bars and pubs open till 4 AM, some cities are not allowed similar privileges. Seattle and California are two such cities that cannot keep their bars open past 2 AM.
The members of the Seattle City Council have requested the Liquor Control Board to extend the closing time of bars and pubs. However, so far all efforts have produced no results.
Restaurants can continue serving only food and non-alcoholic beverages after 2 am. However, they cannot serve alcohol after this time.
What time is the last call in Seattle?
The last call for alcoholic beverages in bars and restaurants in Seattle is at 2 am. Post 2 am no fresh orders can be taken in any case.
Washington state doesn't allow bars and pubs to take alcohol orders after 2 am. Therefore, in Seattle, you need to place your order for alcohol within 2 am.
Since the Liquor Control Board has a rigid stance on the 'no alcohol after 2 am' policy, most restaurants place their last call a little before 2 am. This allows them to make and serve the drinks to all customers before the clock hits 2 am.
Places like Boston have their last call about 30 minutes before closing. Some bars in Seattle have similar policies to avoid extending their serving time beyond 2 am.
When drinking out at Seattle bars, it's recommended to ask your server about the last call and time your orders accordingly. This will help you avoid problems with placing an order at the last minute.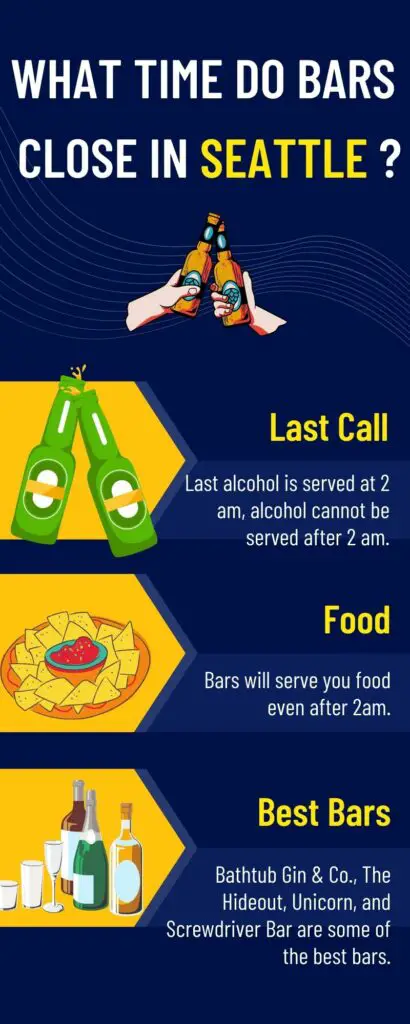 Why do clubs close at 2 AM in Seattle?
Bars and clubs close at 2 AM in Seattle to keep crime rates and drunk driving cases to a minimum. Washington doesn't have a good track record for late-night crimes so bars are not allowed to serve alcohol all night. 
The primary reason why bars close in Seattle is that the government wants to keep crime rates low in the state. The only problems with the policy have been traffic jams and congestion around 2 am which is much better than drunk driving accidents.
According to previous records, Seattle's nightlife is pretty coveted by people, even the ones who are not located in the city. People who travel here from other places pose a risk of causing drunk driving accidents.
To avoid cases related to DUIs and assaults, the Liquor Control Board has enforced the '2 am rule'. So far, the local residents do not have a lot of objections to the matter.
Top 5 bars in Seattle that are open till 2 am
Although bars in Seattle are allowed to be open till 2 AM, many clubs and pubs prefer to close their business well before midnight. If you are looking for bars that actually stay open till 2 AM, take a look at this list below:-
1. Bathtub Gin & Co.
Bathtub Gin & Co. is one of the most popular bars in Seattle which stays open till 2 am. The bar is located on 2nd Avenue and boasts of a diverse menu.
The bar used to be the boiler room of an old hotel which is now converted into a party space for people. Their prohibition-era cocktails & international gin menu are their specialities.
2. The Hideout
Hideout is another popular bar located on Boren Avenue in Seattle. The bar is operational up to 2 am so it's perfect for some post-midnight party.
The bar has some great happy hour prices along with live performances from famous artists. The place is also wheelchair accessible and perfect for large groups.
3. Unicorn
Unicorn is an inclusive bar in Seattle that stays open till 2 am post midnight. The bar is extremely popular among the local population due to its decor and ambience.
The bar has a carnival-themed decor with a unique menu of cocktails and finger foods. Additionally, the bar is also LGBTQ+ friendly so it has an extremely inclusive ambience. 
4. Screwdriver Bar
Screwdriver Bar is a rock and roll-themed bar with an amazing menu of cocktails and canapés. The bar is a favorite of the LGBTQ community and has a very retro ambience.
This bar is a local favourite with a 4.6 rating on Google. They even have an antique vinyl jukebox and a pinball machine for entertainment. 
5. Roquette
Roquette is a late-night bar that is slightly on the luxury side. The bar is well known for its premium drinks menu and amazing cocktails.
This bar is more of the executive style and has a peaceful ambience which is perfect for families and office get-togethers. Modelled after French bars, you can enjoy its warm ambience well after midnight. 
Final Remarks 
So, it's now pretty clear why Seattle has decided against letting bars stay open overnight. While the decision may be disappointing to some people, it has a great motive and has helped bring down crime rates.
Here is a quick recap of what we've talked about.
Bars in Seattle can remain open only till 2 am at night. This policy is enforced by the Liquor Control Board to bring down drunk-driving cases in the city.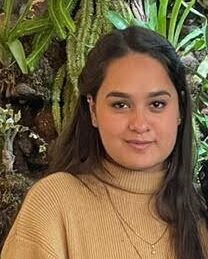 My name is Jeyn Dashner and I am the founder of WanderFever. I have worked as a travel journalist for many years, and exploring new places is my greatest pleasure in life.